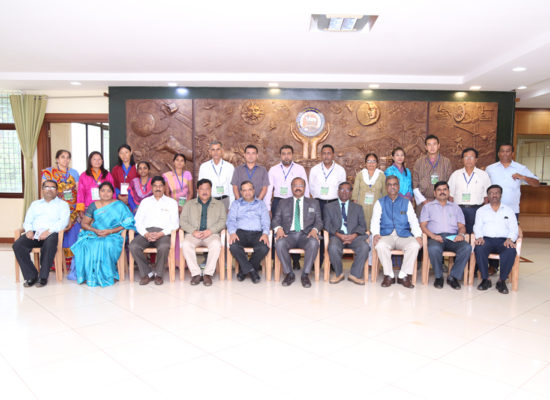 19th -24th September 2017
Cornell Sathguru Foundation for Development (CSFD) in collaboration with Food and Agriculture Organization (FAO) has organized a Farmer to Farmer interactive training program at University of Agricultural Sciences (UASD), Dharwad, Karnataka, India during 19-23 September 2017, with a key objective of enhancing exposure to the farmers regarding recent advances in wheat and legume crops cultivation and practical orientation to the seed systems and digital applications at the small farm level.
A group of farmers from Bhutan; Bangladesh; Nepal and from the Self Help Women Association Group (SEWA) based in Gujarat, India participated in the training program.
The training was held for five days, of which a day and half days were dedicated class room orientation on latest developments in new crop variety development; advances in irrigation; heavy machinery; crop and livestock development; post-harvest and food processing technologies; use of IT tools. Subsequently farmers were given field exposure over a day and a half to the seed processing, seed village and interaction with farmers in the seed village.